Overview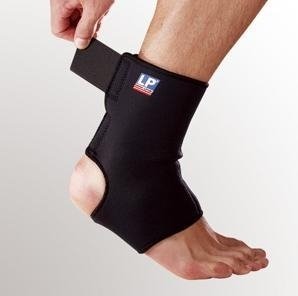 Achilles tendinitis is a common condition that causes pain on the back of the leg near the heel. The achilles tendon is the largest tendon in the body connecting your calf muscles to your heel bone. Your achilles tendon is used when you walk, run or jump. It is made to withstand a high amount of stress from these activities, but when it is overused, you can develop tendinitis. Tendinitis is defined as inflammation of a tendon. When you are injured, your body's natural response causes inflammation. You may experience pain, swelling, or tenderness at the injured site. There are two types of achilles tendinitis, insertional and non-insertional achilles tendinitis.
Causes
Poorly conditioned athletes are at the highest risk for developing Achilles tendonitis, also sometimes called Achilles tendinitis. Participating in activities that involve sudden stops and starts and repetitive jumping (e.g., basketball, tennis, dancing) increases the risk for the condition. It often develops following sudden changes in activity level, training on poor surfaces, or wearing inappropriate footwear. Achilles tendonitis may be caused by a single incident of overstressing the tendon, or it may result from a series of stresses that produce small tears over time (overuse). Patients who develop arthritis in the heel have an increased risk for developing Achilles tendonitis. This occurs more often in people who middle aged and older. The condition also may develop in people who exercise infrequently and in those who are just beginning an exercise program, because inactive muscles and tendons have little flexibility because of inactivity. It is important for people who are just starting to exercise to stretch properly, start slowly, and increase gradually. In some cases, a congenital (i.e., present at birth) condition causes Achilles tendonitis. Typically, this is due to abnormal rotation of the foot and leg (pronation), which causes the arch of the foot to flatten and the leg to twist more than normal.
Symptoms
Signs and symptoms of Achilles Tendinitis generally include pain and stiffness along your achilles tendon, especially in the morning. Pain in the back of your heel that gets worse with activity. Severe pain the day after exercising. Swelling that gets worse with activity. If you feel a pop in the back of your heel or bottom of you calf, you may have ruptured or torn you achilles tendon.
Diagnosis
To diagnose the condition correctly, your doctor will ask you a few questions about the pain and swelling in your heel. You may be asked to stand on the balls of your feet while your doctor observes your range of motion and flexibility. The doctor may also touch the area directly. This allows him to pinpoint where the pain and swelling is most severe.
Nonsurgical Treatment
Treatment can range from cold compress and heel pads for minor cases, to physical rehabilitation, anti-inflammatory medicine, ultrasound therapy, and manual therapy. If you are a Michigan resident that suspects they have Achilles Tendinitis, please contact Dr. Young immediately; Achilles Tendinitis, if left untreated, can eventually result in an Achilles Tendon Rupture, which is a serious condition that is a partial or complete tear in the tendon. It can severely hinder walking and can be extremely painful and slow to recover.
Surgical Treatment
Surgery for an Achilles tendon rupture can be done with a single large incision, which is called open surgery. Or it can be done with several small incisions. This is called percutaneous surgery. The differences in age and activity levels of people who get surgery can make it hard to know if Achilles tendon surgery is effective. The success of your surgery can depend on, your surgeon's experience. The type of surgery you have. How damaged the tendon is. How soon after rupture the surgery is done. How soon you start your rehab program after surgery. How well you follow your rehab program. Talk to your surgeon about his or her surgical experience. Ask about his or her success rate with the technique that would best treat your condition.
Prevention
So what are some of the things you can do to help prevent Achilles Tendinitis? Warm Up properly: A good warm up is essential in getting the body ready for any activity. A well structured warm up will prepare your heart, lungs, muscles, joints and your mind for strenuous activity. Balancing Exercises, Any activity that challenges your ability to balance, and keep your balance, will help what's called proprioception, your body's ability to know where its limbs are at any given time. Plyometric Training, Plyometric drills include jumping, skipping, bounding, and hopping type activities. These explosive types of exercises help to condition and prepare the muscles, tendons and ligaments in the lower leg and ankle joint. Footwear, Be aware of the importance of good footwear. A good pair of shoes will help to keep your ankles stable, provide adequate cushioning, and support your foot and lower leg during the running or walking motion. Cool Down properly, Just as important as warming up, a proper cool down will not only help speed recovery, but gives your body time to make the transition from exercise to rest. Rest, as most cases of Achilles tendinitis are caused by overuse, rest is probably the single biggest factor in preventing Achilles injury. Avoid over training, get plenty of rest; and prevent Achilles tendinitis.